Bridgedale Stormsock 100% Waterproof Lightweight Boot Sock Grey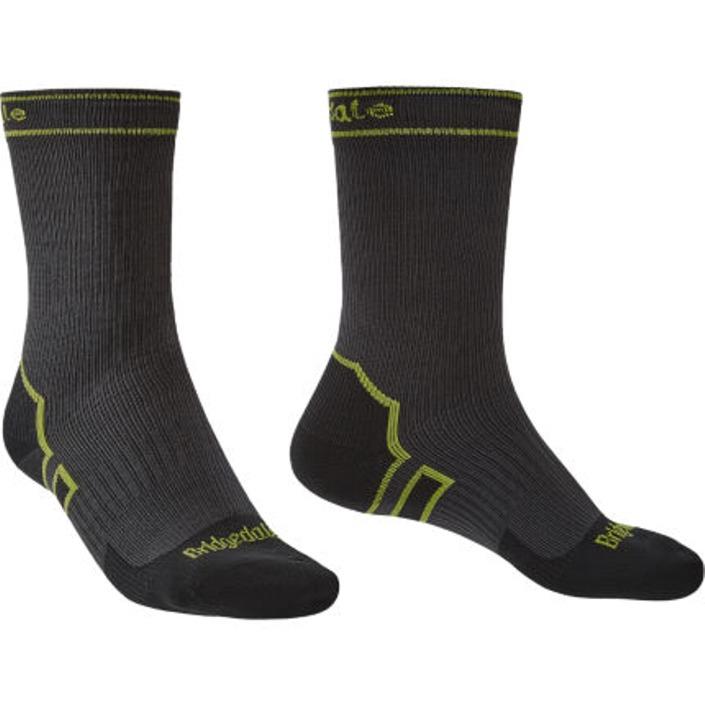 100% Waterproof boot length sock with an un-cushioned fine knit merino inner. This close-fitting sock is ideal for activities where maximum breathability and minimal insulation are desired.
Comprising 3 layers the lightweight boot length StormSock features a thin un-cushioned lining that wicks moisture away from your feet.… Primarily knit from Merino Wool, known for its anti-bacterial, anti-odour and moisture management properties, the sock will keep your feet warm, dry and comfortable. The outer layer sock, made from nylon, protects the Hydrotech waterproof breathable membrane against abrasion from the boot. Lycra knit through every course gives the sock Bridgedale's performance fit and together with the flat toe seam and elastic arch support ensure the sock remains in place and doesn't cause any hotspots. The stretch PU membrane and clever matrix lamination process that bonds the three layers of Bridgedale's Stormsock together ensure they have class leading stretch built right in, wear after wear. Bridgedale's best-selling length, our boot length comfortably sits above the ankle cuff of standard walking boots. Covering the leg up to the mid-calf our boot length can be easily be protected from water ingress with waterproof trousers or gaiters.
Outer : 95% Nylon, 5% Elastane

Inner : 45% Merino, 45% Polyester, 7.5% Nylon, 2.5% Elastane