GRANGER'S WASH + REPEL CLOTHING 2 IN 1 300ML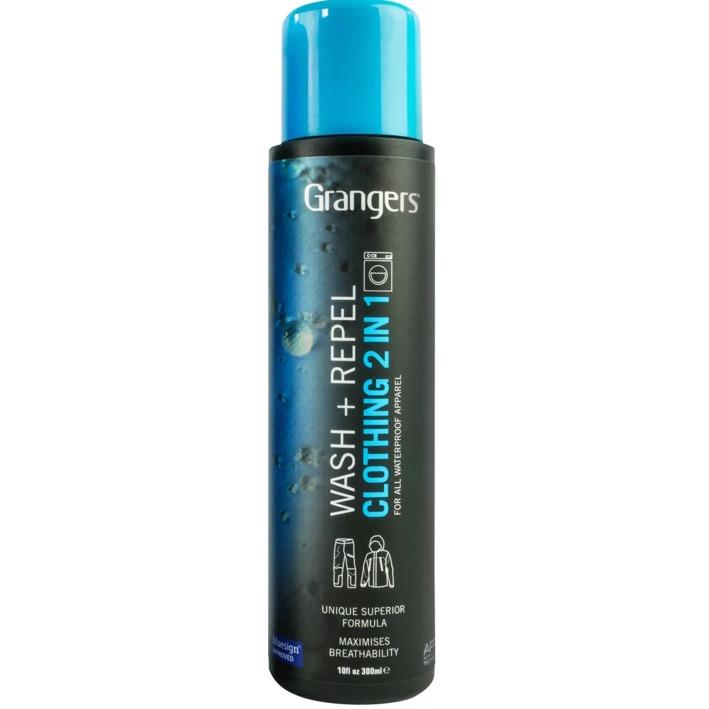 Grangers Clothing Wash + Repel is a unique wash-in product designed to deliver effective cleaning and durable water-repellency in a single wash cycle. 
Combining the cleaning action of Grangers Performance Wash with the water-repellency provided by Grangers Clothing Repel, this product is the perfect way to regularly maintain your outdoor clothing. By cleaning and reproofing in a single wash cycle, this product also saves time, energy, and water – reducing your environmental impact and maximising your time outdoors! 
Based on fluorocarbon-free technology and designed to work at low temperatures, this product restores all outdoor clothing to its original level of performance. Safe to use in all domestic washing machines, Clothing Wash + Repel requires heat activation to work – ideally via low-temperature tumble drying. If a tumble dryer is not available, ironing or blow-drying will also work. 
Grangers Clothing Wash + Repel is suitable for use on all outdoor and technical fabrics, and is perfect for restoring the water-repellent finishes found on all Gore-Tex® and eVent garments.
Formulated to clean and restore the water-repellency of all outdoor clothing.

Fluorocarbon-free and environmentally responsible.

Requires heat activation – ideally via a tumble dryer.

Suitable for use on all Gore-Tex® and eVent garments.

A bluesign® system approved product.