LUMi USB Rechargeable Light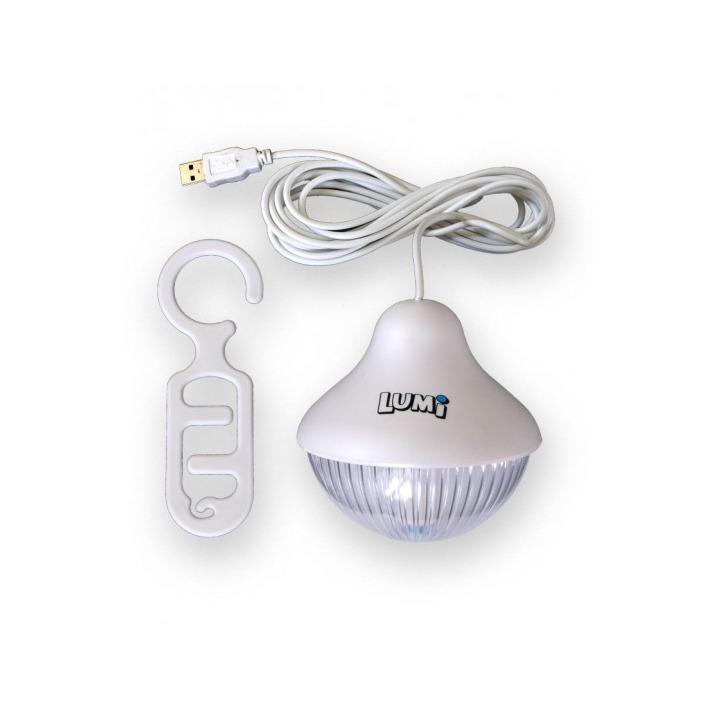 The LUMi USB is a super bright rechargeable LED light for use anywhere without mains power e.g. tents marquees, awnings, parasols, sheds, greenhouses etc. With its built in switch and removeable hanger its ideal for camping.
The LUMi USB includes a built in Li-Ion battery that's when fully charged Via USB will give you up to 12hours of light. You can charge the LUMi from a 5v USB port on a computer, phone charger or even one of our Freeloader solar chargers
Inputs
Power input from USB for recharging.
Power requirements
5v DC (From USB for charging)
Light Output
40 Lumens (ideal for a 2 to 5 person tent)
Internal Battery Capacity
Charging / Run Time
Charge from standard USB = 3 to 7 Hours (depending on the power being provided from the USB charger)

Run time upto 12h of light from a full charge
Size
Cable length
Weight
Warranty
Whats Included.
LUMi USB rechargeable Light

LUMi fixing hook