NITE IZE INOVA® STS™ POWERSWITCH™ DUAL POWER RECHARGEABLE HEADLAMP - 280 LUMENS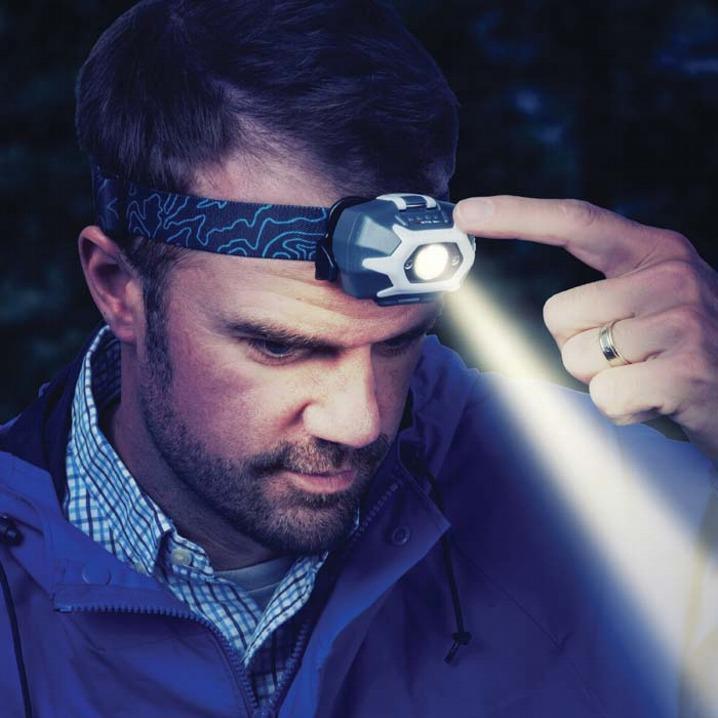 The INOVA STS PowerSwitch is the first ever rechargeable, two-color LED, multi-mode headlamp that can run on either the included Lithium Ion battery pack or three AAA batteries. The waterproof, impact-resistant body houses red and white LEDs with four modes and features easy-to-use Swipe-To-Shine® activation. 
For nighttime adventures or emergency situations, no other headlamp provides the versatility and functionality of the 280 Lumen INOVA STS PowerSwitch Rechargeable Headlamp. This first ever rechargeable, dual-power, waterproof, two-color LED, multi-mode headlamp with Swipe-To-Shine® technology can run on its included Lithium Ion battery, or on three AAA batteries while the other recharges. That means no delays in waiting to use your light while it recharges. The waterproof, impact-resistant body of the PowerSwitch is designed around the innovative Swipe Pad. This Swipe-To-Shine (STS) technology allows you to activate the light, easily change between the white or red light, or change between the four modes: high, variable dim, strobe, or lock-out. When lock out mode is activated you don't have to worry that your light will turn on while being transported or stored. 
PRODUCT DETAILS
280 Lumens

Dual power source: runs on included rechargeable 3.7V Lithium Ion battery pack (1100mAh) or three AAA batteries (not included)

Dual LED colors: white and red

Four modes: high, variable dim, strobe, and lock-out

Recharges in approximately 2 hours

Waterproof (IPX7)

Impact resistant (drop proof to 2 meters)

Durable polycarbonate body

Comfortable, high quality strap

Includes: rechargeable Lithium Ion battery pack and micro USB cable

Red LEDs will blink three times when battery life has 5 minutes remaining in high mode

Dimensions: 2.5" x 1.9" x 1.8" | 63mm x 48mm x 45mm

Weight: 2.3oz | 66g