NITE IZE NITE DAWG® LED PET LEASH RED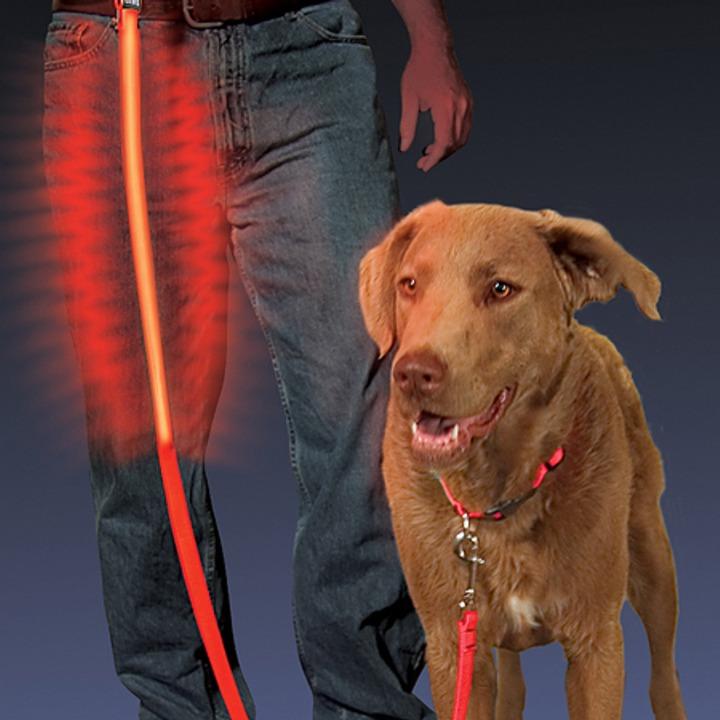 The Nite Dawg LED leash is a durable five ft. nylon leash featuring 18" of red LED illumination to help keep you and your canine companion visible at night. The LED can be set to glow or flash modes to keep you and your dog seen and safe at night. 
When you're walking or running your dog before sunup or after sundown, you sometimes worry that other people and cars can't see you coming. Unless, of course, you're using the Nite Ize Nite Dawg LED Dog Leash. With its 18-inch flexible, LED light-transmitting polymer core and a reflective stripe for passive reflectivity, this leash makes both you and your furry friend's presence obvious to everything on-coming, from dusk till dawn.
Made of high-quality, durable nylon and measuring 5 feet in length, the Nite Dawg leash features a weather-resistant, enclosed switch that allows you to choose illumination modes (glow or flash). Its efficient LED has a life of about 100,000 hours, and a replaceable 100-hour battery is included. Secured to your dog's collar with its strong, rotating spring clip, this leash provides visibility through endless late-day, late-night, and early morning outings. (Doubly effective when paired with the Nite Dawg Collar.)
PRODUCT DETAILS
Bright Red LED Illumination

Reflective stripe adds passive reflectivity

Glow and Flash Mode

Battery run time: 
Glow mode: 75 hours
Flash mode: 100 hours

Easily replaceable 1 x 2032 3V lithium battery included

Features high quality red webbing

Leash is 5' long with 18" of LED illumination

Dimensions: 60.25" x 1.44" x 0.61" | 1530.35mm x 36.66mm x 15.66mm

Weight: 4.90oz | 139.00g