X-SOCKS SKIING LIGHT LADY SKI SOCKS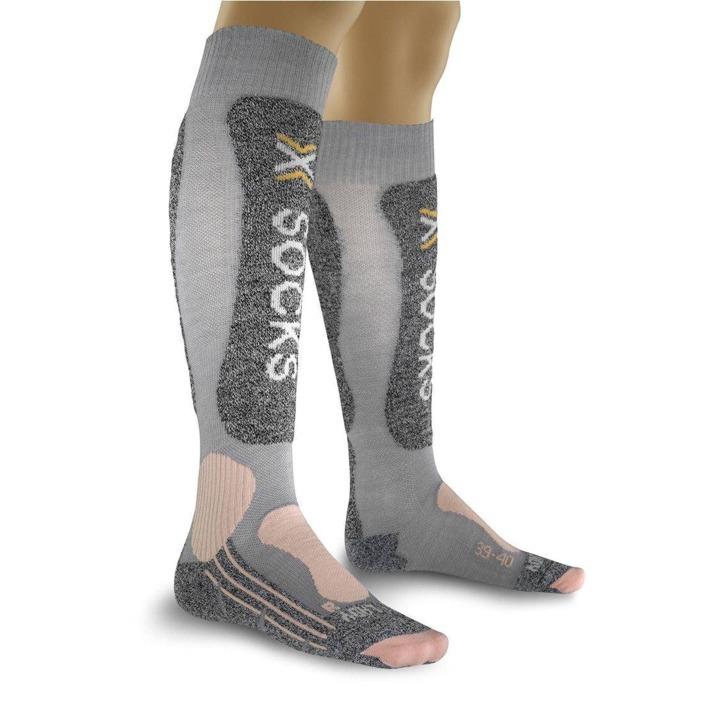 by X Socks
Code: XSOCKSSKIGY
Warm and soft. If this is how you imagine your new ski socks, then with X-SOCKS® Skiing Light you've made the right choice. The comfortable padding system reduces the force of impacts and works in combination with a high performance ventilation system. Your feet are not only protected but also well ventilated without the danger of becoming cold.
Features:
Self-adjusting cuff (Socks): Adapts to any size leg without slipping or constricting.
AirConditioning Channel®: Conducts air away from the anatomically shaped footbed via the inside surface of the foot and thus ensures that moist,overheated air is pumped out of even tight fitting shoes with every movement.
Shin Protector: protects and absorbs.Calf Protector: Pads and relieves strain on the muscles, without restricting them.Anatomically shaped footbed: For "L"-left and "R"-right foot with integrated AirConditioning Channel®.
Traverse AirFlow Channel System™: Regulates the temperature of the sole of the foot and conducts moist and overheated air into the AirConditioning Channel®.Toe Protector: Guards against blisters and chafing.
X-Cross® Bandage: The unique crossover ankle bands, knit of elastic materials, give stressed tendons, muscles and joints secure hold and stability without limiting freedom of movement.Ankle Pad: Protect the ankle and assist in the exchange of air.
Heel Protector: Guards against pressure and friction.Achilles Tendon Protector: The Achilles Tendon Protector reduces the incidence of pressure points and the risk of scraping and bruising.
Instep Protector: The Instep Protector cushions and acts as a shock-absorber, significantly reducing the incidence of painful pressure points and scraping, bruising and blistering.
Narrow Arrow Construction™: Perfectly shaped for a woman's foot. This prevents wrinkling and pressure points during movement.
3-Expand LadiesStripes: Special knitting machines that take into account the unique anatomy of a woman's foot incorporate expanding ribs in the midfoot.
ToeTip Protector: Asymmetrical impact-absorbing protectors made of hollow-core Robur™ fibers cushion and protect toes at the pressure-sensitive tips.
Technical composition: 33% Nylon, 24% X-Sensa, 22% Merino wool, 10% Robur™, 9% Mythlan™, 2% Elastane.
Material composition: 43% Nylon, 24% Acrylic, 22% Merino wool, 9% Polypropylene, 2% Elastane.
Activities: Ski Socks, Alpin skiing.